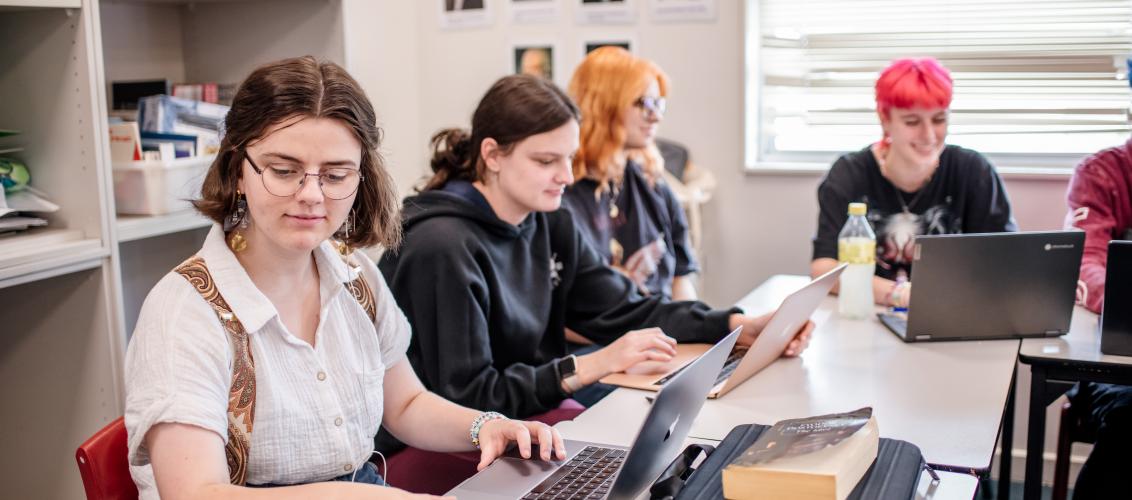 Located on the grounds of Federation University Australia Gippsland Campus, Kurnai College University Campus is for all Year 11 and Year 12 students. Victorian Certificate of Education (VCE) and Victorian Certificate of Education, Vocational Major & Victorian Pathways Certificate (VCE VM) programs are run here for about 300 students by staff who are highly experienced in their specialised teaching areas. In 2022, 15% of VCE Year 12 students sitting exams achieved an ATAR score of 90 or above, placing them in the 10% of VCE students in the state. 6.1% of VCE study scores were 40+, ranking Kurnai College 33rd of all government schools in Victoria. Over 16 VCE VM and VCE students also finished the year with apprenticeships or traineeships.
Kurnai College University Campus offers modern, well-resourced facilities for all students, regardless of their educational focus. Students studying Physical Education, Outdoor Education and Environmental Studies, and Health and Human Development have access to classrooms at Latrobe Leisure Centre in Churchill to support their learning. The learning spaces for subjects in Woodwork, Metalwork and Food are fully equipped and Art, Music and Theatre Studies share their facilities with Federation University Australia Gippsland Campus. Our students can also access other Federation University facilities such as the library and cafeteria. Science subjects like Chemistry, Physics and Biology have purpose-built rooms on campus.
The access our students have to such a wide range of facilities helps support the diverse subjects on offer, which is more than any other school in the Latrobe Valley. As a result, we have a very strong team of career advisors who work closely with students. From the time they select their first courses in Year 10, through the preparation of resumes and applications to university entry requirements, the career's team works closely with all students at the University Campus to ensure they leave Kurnai College with the best possible outcome.
Visitors always comment favorably on the atmosphere at the University Campus, which sits somewhere between a secondary school and a university. This is the atmosphere the school community was aiming for when the decision was made to build the senior campus of Kurnai College inside the grounds of the local university. If you would like to see the University Campus in operation, whether you are a parent of a student already enrolled at Kurnai or someone who is considering a shift to the University Campus, please call 5132 3800 to make an appointment. We will be happy to show you around and answer any questions you have.
School Wide Positive Behaviour Support (SWPBS)

SWPBS is a whole- school framework which provides schools with a systematic approach to promote both improved behaviour and school culture, while increasing academic performance. This is guided by a college matrix developed by staff and students. This matrix is visible in every classroom across the college and is used as the basis for rewarding students when they exhibit the expected behaviours.
The Department of Educations full enrolment process for schools can be found at: https://www.findmyschool.vic.gov.au/
Geoff Block
University Campus Principal