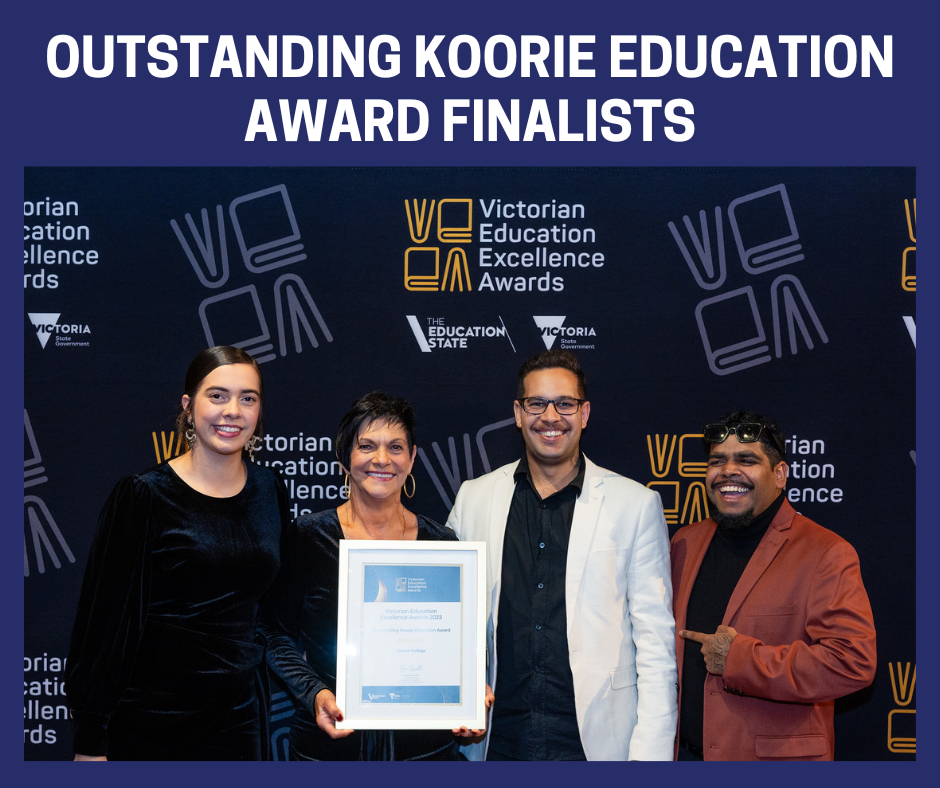 Congratulations to our Koorie Support Team, consisting of Marina Cooper, Hollie Johnson, Tre Moffatt, and Hayden Edwards have been shortlisted for the Outstanding Koorie Education category for their commitment and dedication to our Indigenous students and their families.
In 2022 Kurnai College identified a need to address Koorie students' cultural safety in ways that could grow student's confidence in their identity as Koorie people. Forming relationships with the local Gunaikurnai community, service providers and support agencies, the Koorie Team has initiated many different ways to create positive systemic change for Koorie students and their families, and for all students at the College.
In 2023, a documentary (Stop, Rewind, Play) was produced in association with Kurnai College and featuring many Koorie students, members of the Koorie Team, community Elders and student mentors. The documentary was produced as a study guide that addresses the harms caused by racism, bullying and lack of cultural awareness, and how these can be changed through education. Early adopters of department initiatives such as Campfire Conversations and Cultural Understanding and Safety Training, the Koorie Team is helping to increase the cultural safety and confidence in identity of Koorie students.
Our Koorie Team's recognition as finalists is a testament to their outstanding dedication and contributions to education in our community. Kurnai College is incredibly proud of the team and their accomplishments.